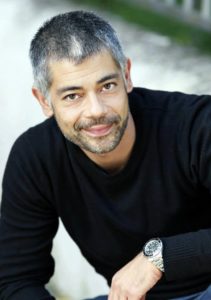 Italian actor, director and acting coach Alessandro Prete was born in San Francisco –California on February 7th 1975.
Legacy of the famous Italian actor Giancarlo Prete, he started acting from a pretty early age. "Fuga dal Bronx" was  his first role for cinema, at the tender age of 8, alongside his father, who were both directed by the Italian grand master Director Enzo G.Castellari.
Since the beginning of his career he has been very passionate about acting, attending different courses in Rome since he made his decision to go back in US where he attended the "Stella Adler Conservatory" in New York.
Returning to Rome after this extraordinary experience, he continued his artistic training with various talentsincluding Beatrice Bracco and Francesca de Sapio.
Throughout his acting career he has worked for almost a decade with several directors,both italian and international such as Stefano Sollima, Michael Apted, Giovanni Albanese, Claudio Insegno, Igor Maltagliati, Luca Lucini, Paolo Bianchini.
Alessandro has taken on multiples roles in both cinema and television including the extremely popular "Romanzo Criminale", "Tre metri sopra il cielo", "L'uomo spezzato", "Scorta Gs21", "Vite a perdere", "Il giorno, la notte e poi l'alba", "La banalità del crimine", "Ris-delitti imperfetti", "Commissario Rex", "Carabinieri", "Squadra Antimafia" and several acclaimed others.
Along side his acting career,in 2001 Alessandro began his coaching activity at "L'Accademia Corrado Pani" in Rome where he set up his own idea of a new teaching method, not in a dogmatic sense but rather oriented to give the necessary tools to both blossom as an artist and a human being, through training and discipline.
His fondness for acting grew further whenhe started to become more and more involvedwith teaching until the set up in 2009 of his "Permanent Laboratory" in Rome,which was geared predominantly for professional actors.
After several years of practice, Alessandro finally opened his "Acting Lab-Studio Prete" in 2016, a place where young talents are coached to improve their inner skills and talents using and canalizing their personalities, and their potential to their best capabilities.
Starting in 2002 as a director, Alessandro has seenhis career improving gradually, directing many plays at Eliseo Theatre in Rome, among which the widely acclaimed performances of "Frida Khalo" and "Edgar Allan Poe".
Since 2015 Alessandro has directed various short films, among them in 2018 "Mors tua Vita Mea" starring Gianclaudio Caretta, with Federica Ambrogio, Gaetano Amato, Edoardo Ceolin,
He is currently working both on his Opera Prima project for the cinema as a director and screen player and as coach at his Acting Lab.